Employment - Line Cook
Papa's Pub & Eatery
Full-Time Permanent
Weekdays Weekends Evenings Nights Shift Holidays
Description
Papa's Pub & Eatery has been a staple of the Port Hawkesbury food scene for years. We are a family-owned and family-friendly restaurant offering everything from pizza and burgers to seafood and pasta and much, much more.
Job Duties:
Willing to work a position on the kitchen while achieving daily KPIs
Prepares and cooks complete meals
Ensure multiple orders on the same table are delivered all together and/or in a timely fashion
Schedule and supervise kitchen helpers
Be positive in recognition and corrective coaching
Ensure to provide the highest possible level of customer satisfaction through product quality
Assist other cooks with tasks as needed to ensure customer satisfaction
Initiate necessary actions to correct customer complaints and escalate any major issues to manager
Ensure to properly execute current promotions and new products during lift
Ensure to be neat, professional, hygienic at all timers
Monitors and maintains correct inventory levels and notifies management when levels are low
Ensure restaurant is ready for peal revenue periods by utilizing appropriate back up raw materials
Ensure Occupational Safety & Health Act, local health and safety codes and corporate safety/security polices and procedures are met and followed
Respond to emergency situations as required and communicate to management immediately
Assist with training of new team members
Ensure proper communication takes place during shift change
Other duties as assigned
Requirements
Completion of high school
18 years or older
Six months of related work experience representing continuous learning
Flexibility to work different positions
Ability to work in a fast-paced environment
Asset: Food Safety Certification
Skills & Knowledge:
Excellent interpersonal skills and communication skills - written and verbal
Self-motivated and demonstrates initiative
Results/service oriented
Excellent work ethic and demonstrates integrity
Remains calm under pressure and can effectively train others
Thorough knowledge of all store equipment (including but not limited to cash registers, food preparation equipment, etc.), and of relevant policies and procedures
Physical Demands:
Regularly required to stoop, kneel, crouch, talk and hear
Required to stand, walk, sit, use hands and fingers and reach with hands and arms
Frequently required to lift and/or move up to 50 lbs
How To Apply
Papa's Pub & Eatery will be accepting applications for this position via email. Please follow the instructions below carefully. Failure to do so may result in disqualification.
Send resumes and cover letters to mike.devo@hotmail.com
Email Address: mike.devo@hotmail.com Apply here
Intended Audience
This employment opportunity is open for qualified and eligible job-seekers domestically and internationally.
Applications from Foreign Nationals will be considered.
Location Information
Community

Port Hawkesbury

County

The Town of Port Hawkesbury

Province

NS

Country

Canada
Opportunity Information
Employer

Papa's Pub & Eatery

NOC Code

Cooks (6322)

Experience Required

Yes

Available Openings

2

Pay Type

Hourly

Remuneration

15.00 (Negotiable)

Estimated Weekly Hours

35.00

Start Date

—

End Date

—

Language

English

Language Proficiency Level

Posted on

October 20th 2022

Expires

February 1st 2023
Employer Profile - Papa's Pub & Eatery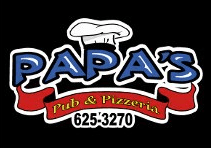 View Website
View Facebook Page
General

Organization ID

74995

Organization Name

Papa's Pub & Eatery

Organization NAICS

Full-service restaurants and limited-service eating places (7225)

Location

Address

714 Reeves Street Unit 8

City/Community

Port Hawkesbury

Province

NS

Country

Canada

Postal Code

B9A 2S1

Contact

Website

Facebook

Miscellaneous

Seasonal

No